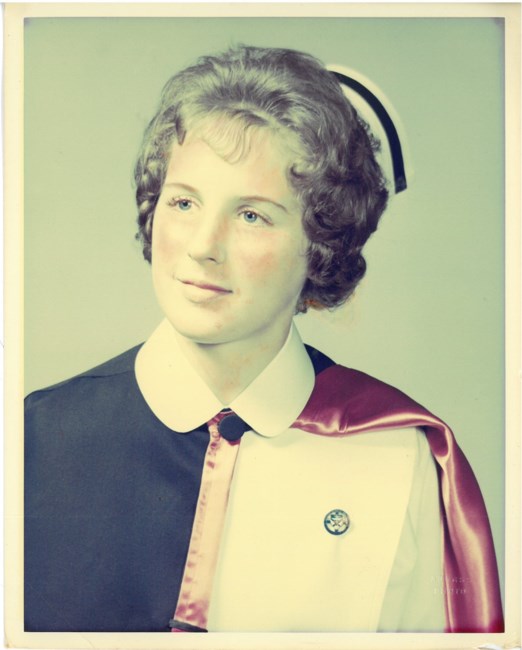 Submitted in loving memory of
Mary Cash
by Colleen Cash, Catherine Cash Jacobs and Alana Cash MacKinnon
October 24, 1942 - October 21, 2015
Sydney, NS
Our mother and grandmother passed away on October 21, 2015.
She was born in Sydney and grew up in Whitney Pier. We often heard stories of an adventurous girl who would scramble up a ladder to help with roof repairs and play baseball with the boys.
She would eventually graduate from the former Saint Rita Hospital School of Nursing, where her warm and humorous nature made her many lifelong friends. She followed her calling as a surgical nurse and received a post graduate certificate in operative technique and management from the Royal Victoria Hospital in Montreal. Mom worked for over 30 years in the operating room at Saint Rita Hospital and then the Cape Breton Regional Hospital, Sydney, where she was well respected and loved among her nursing colleagues as a leader, mentor and friend. She always enjoyed spending time with her fellow nurses in and out of the operating room, and considered many to be her dear friends. She was well known for her dry wit.
Over the years, we heard many stories of her excellence as a nurse. People who encountered her in the operating room would speak of her ability to provide support and comfort and alleviate their fears.
Mom married our father George Cash in 1969, and they briefly moved to Toronto to start their family. They would return to Mom's childhood home on Borden Street in the Pier and raise their family. She was a good neighbour and could always be relied on to lend a helping had or provide her nursing expertise. She would support neighbours who were home from the hospital or take the time to visit and comfort people who were worried about an ill family member.
As a mother, she was extremely proud of us, her daughters, and she always looked forward to spending time with her grandchildren. After her death, we would hear of how proudly she spoke of our achievements and how she always had a story to share about one of her girls. She took great pride in the fact that we all followed in her footsteps and pursued careers in healthcare and the service of others.
She loved children, particularly young children and she herself said that she "never lost her touch." She was dearly loved and admired by her nieces and nephews, and many would travel long distances to provide support when she was ill and in hospital.
Her grandchildren brought her tremendous joy and they could count on her to have lots of treats on hand when they visited. Throughout the years, many children would visit her toy cupboard under the stairs where she had saved a seemingly indestructible collection of fisher price toys for over forty years,- that even the most recent additions to the family loved to play with.
For many years, she brought her immediate and extended family together at Christmas, where she always served her cabbage rolls, fruitcake and dream squares. These gatherings were a constant throughout our lives and are dearly missed by many.
Mom, you are loved and missed by so many.
Love, Colleen, Catherine and Alana.